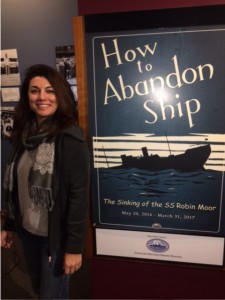 The How to Abandon Ship exhibit is currently running at our United States Merchant Marine Academy Museum in Kings Point, NY on the north shore of Long Island through March 2017.  It tells the story of the American freighter Robin Moor which was steaming from New York City to Cape Town, South Africa on May 21, 1941.  Before dawn, a Nazi German U-boat stopped the American ship (the US had not yet entered World War II) and gave the crew and passengers a few minutes to launch the ship's lifeboats.  They then torpedoed and shelled the hapless freighter, leaving four lifeboats with some eight passengers and thirty-eight merchant seamen to fend for themselves in the middle of the ocean.  After fourteen grueling days, the survivors of three lifeboats were taken to Cape Town, South Africa. The fourth lifeboat was picked up after eighteen days and taken to Recife, Brazil.  Remarkably, nobody died in the incident, although one young mariner tragically committed suicide while on his way home.
The Exhibit gets its name from the book, How to Abandon Ship, co-authored by John Banigan, the Robin Moor's third officer who skillfully navigated his lifeboat almost to the coast of Brazil. The exhibit endeavors to tell this story, both in its historical and human dimensions.  It uses a specially-commissioned ship model, painting and a small book entitled Outrageous and Indefensible to explore these dimensions.  It also uses photographs taken by survivors in the lifeboats, recreated radio broadcasts from 1941, a detailed journal by Berta Cohn of New York City who relates both the good and the bad in her empathetic but honest account of survival at sea.
My Contribution.  I was hired to oversee and voice two audio projects for this exhibit.  Working from the transcription of the 1941 South African radio broadcast of 5 of the survivors, I cast the 5 survivors and a South African radio broadcaster.  Casting VO actor Adam Behr as the South African (his home country) broadcaster, along with myself, I cast VO actors Alan Sklar, Michael Schoen, Tom Dheere and Andy Danish to play the survivors interviewed in the 1941 South African radio broadcast.
Additionally, I had the honor of narrating the often heart wrenching diary of New York City resident and survivor Berta Cohn.  Recounting her thoughts during her experience for this exhibit was powerful. What must it have been like to be adrift at sea in an open boat, with your husband, 18 strangers, no GPS, and meager provisions?  As Berta's fate remains unknown, she tries to remain positive, keeping hope at arm's length, and tempers in check.
The USMMA museum is pleased with the projects, thanks to my talented and seasoned cast! I would like to also extend a special thank you to USMMA's Dr. Joshua Smith and Clayton Harper for their vision, oversight and execution of this captivating exhibit.
Please visit the exhibit before it closes the end of March 2017.
American Merchant Marine Museum
300 Steamboat Road
Kings Point, NY 11024
(516) 726-6047
Free admission and open to the public:
10:00 am - 3:00 pm, Tuesday through Friday and by appointment.

Lynne Darlington
lynnevoiceover@gmail.com
www.lynnedarlington.com